Summer hit!
MAKE PEOPLE HAPPY WITH YOUR MOBILE ICE BIKE.
From sweety chocolate over fresh and fruity up to light salty. Chopp & Roll is able to satisfy all the customers wishes and favorite flavors. Our clean and natural ice base and our special technique are perfect to put the spotlight on the main ingriedients. We bring flavor in every lick or bite without use artificial flavors.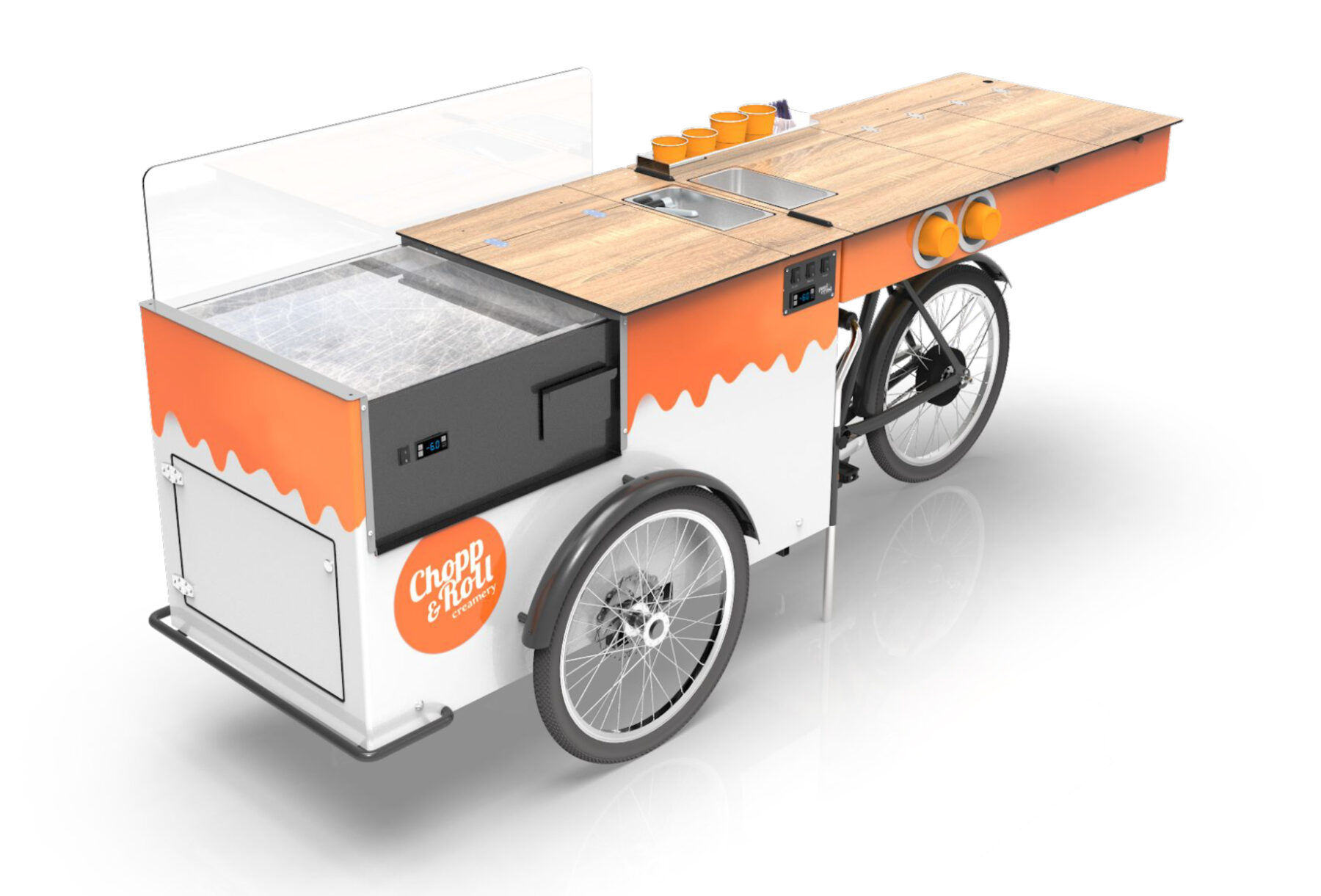 Over 1000 ice rolls on board!
Alle wichtigen Infos zum Bike!
Speedy Gonzales!
The brand new Choppi bike is ready for use only 30 sec. and just a few handles. That saves you a lot of important time which could be used preparing other things.
Small but …
The modules are all in a compact design. You don´t need any huge transporter tob e mobile and start your business. The small design makes it easy for you the start chopping nearly at every place you want to. 

Icecold "Made in Germany"
We believe in quality. That´s why our special ice plates are 100 % Made in Germany. The reach temperatures down to -30 ° C. During the contract duration we will give guarantee on the ice machine and will be there for you if you need technical support.
All-in-one
The concept of our modules are well thought out. You could reach any materials and products easily. It will help you to automize your work because everything has a special place.
What are the advantages of a Chopp & Roll franchising?
FLEXIBILITY FROM SMALL TO LARGE.
Strong partner
The Chopp & Roll Team will be at your side. Our years of experience make us a perfect and strong partner.
Small investment amount.
You don't have to be a millionaire to start your own Chopp & Roll Business.
Leasing opportunity
If you don't have much equity capital we offer you the opportunity to lease.
Eyecatcher!
You will be the eyecatcher every where you go. People love watching the process of chopping and rolling.
High flexibility!
You decide by yourself where and when you want to work.
High mobility!
With are modules you are free and able to change places quick and often.

Our locations
Our small but nice Chopp & Roll community is growing and growing and growing … You can already find us at the following locations. Come by for an ice cream.